All New Nissan Navara 2022 2023 Black Edition Double cab Smart cab
Nissan Motor Thailand opens a new front in the pick-up war of Thailand, sending the Nissan Navara Facelift 2021 cast to enter the market as the first country in the world. All New Nissan Navara Facelift export, All New facelift king cab export, nissan Navara 2021 facelift export, new facelift nissan Navara 2021 export, nissan Navara pro4x4 export, nissan Navara 2021 2.3 diesel export, facelift nissan Navara export,
Nissan navara pro 4x double cab,
Nissan Navara pro2x
Nissan Navara Pro4x King Cab
Nissan Navara 2022
Nissan Navara 2023 Black Edition ,
Nissan Navara 2023 double cab,
Nissan Navara 2023 smart cab open cab
Nissan Navara Facelift 2021 models and prices
New PRO-4X and New PRO-2X models and prices
Nissan Navara PRO-4X 4WD 7AT
Nissan Navara PRO-2X 2WD 7AT
Double Cab
Nissan Navara 4WD VL 7AT
Nissan Navara CALIBRE V 7AT
Nissan Navara CALIBER V 6MT
Nissan Navara CALIBER E 7AT
Nissan Navara CALIBER E 6MT
King Cab
Nissan Navara CALIBER V 7AT
Nissan Navara CALIBER V 6MT
Nissan Navara CALIBER E 7AT
Nissan Navara CALIBER E 6MT
Nissan Navara E 6MT
Nissan Navara SL 6MT
Nissan Navara S 6MT
The Unbreakable Design concept conveys rugged use, the exterior features a new Interlock grille, large wheel arches. QUAD – 4 high quality LED headlights with dimmer daytime running lights, Daytime Running Light Single LED taillights, 17 inch alloy wheels, Yokohama A / T tires.
Ramesh Narasiman, President of Nissan Motor Thailand, said that this launch is part of the product. Under the Nissan NEXT strategy, Thailand is one of the two Nissan Navara production bases for Thai customers. And exported to more than 26 countries proving the importance of Thailand As a center for automotive manufacturing Including research and development for Nissan customers in Asia and Oceania, I and all Nissan employees will strive to maintain world-class quality from the manufacturing base in Thailand. And continually offer cars that meet customer needs "
Nissan engines are famous for their performance and durability.The Nissan Navara Facelift 2021 has three engine types:
1- YS23DDTT engine, 2.3-liter, 4-cylinder, twin-turbo, 7-speed automatic transmission with manual mode. The maximum power is 190 horsepower (Ps) and 450 Nm of torque (Nm). The 7-speed automatic transmission (7AT) with manual driving mode (M mode) brings both power and driving performance. That is coupled with the rate of better oil consumption It supports all types of diesel, including B7, B10 and B20.
For the manual transmission (6MT) of the King Cab model, Caliber and Double Cab (6MT) the YS23DDT 2.3-liter four-cylinder DOHC turbocharged VGS has a maximum power output of 163. Horsepower (Ps) and torque of 403 Newton-meters (Nm).
The 2-liter 4-cylinder turbo engine, a 2.3-YS23DDT VGS Variable Transmission 6-speed maximum power of 163 hp (Ps) and torque of 403 Newton meters (Nm This)
3- YD25DDTTi engine 2.5-liter turbo with variable to VGS. Maximum power of 163 horsepower (Ps) and torque of 403 Nm (Nm).
There is also a Navara with a four-wheel drive system. And drive technology supports all road conditions, such as anti-skid system (Brake Limited Slip Differential: B-LSD), electric rear differential lock (Electronic Rear Locking Differential), surround view camera (IAVM) that complement the Off- function. Road Meter when in 4L mode
The 4×4 four-wheel drive (4WD) * can be converted from two-wheel drive or two-wheel drive (2H) to four-wheel drive or four-wheel drive in both 4H and 4L via the Rotor Switch in the center console area with function. shift-on-the-fly It can be adjusted while driving (from 2H to 4H), while the low-speed four-wheel drive mode, low range four-wheel drive or 4LO for driving on rough terrain such as sand, mud, wading, water climbs and steep climbs. Or down a steep path
The Navara 4-wheel drive model comes with an anti-skid system, Brake Limited Slip Differential (B-LSD), which sends force to the skid wheels for a smooth start. While distributing the driving force to each wheel when driving in 4H mode, while the Electronic Rear Locking Differential system provides traction when driving in situations where high torque is required in 4L mode.
The mono frame chassis is made from Nissan's famous one-piece steel (Fully Boxed Frame). It comes complete with suspension system and independent front suspension, twin wishbone with coil springs and bar guards. While the rear suspension is a double leaf suspension with shock absorbers All of which were re-tuned For performance and vehicle stability while driving around curves
The new Navara has Nissan Intelligent Mobility technologies such as Intelligent Emergency Breaking, Intelligent Forward Collision Warning, Intelligent Blind Spot Intervention, vehicle control system when leaving the lane. (Intelligent Lane Intervention), including the Intelligent Around View Monitor with Off-Road Meter function.
Safety Shield Technology such as Traction Control (TCS), Vehicle Dynamic Control (VDC) and Vehicle Stability Control System (Trailer Sway Assist). : TSA)
Connection for use with smartphones Can be done through NissanConnect That can be connected to Apple CarPlay and Android Auto * for use in a variety of formats such as Navigation system or various music applications. Through the 8-inch touch screen car audio system with voice commands or Voice Recognition
Navara new. NissanConnect Service on smartphones * to allow owners to connect and view their vehicle's information through their smartphone. It has functions such as vehicle coordinate display, vehicle status, roadside assistance, and driving history.
The new Navara's cab uses noise-reducing acoustic glass to reduce the noise entering the cabin. And the rear window filters tea light Interior decoration with genuine leather around the cabin in black tone. Zero Gravity front seats, 8-way electric adjustment, with electric adjustment rear pressure In the driver's position Back seat cushion Add comfort with a new design, soft and comfortable (Comfort rear seating cushions) with armrests and 2 cup holders, USB Type C port on the center console.
Nissan Navara focuses on heavy loads. With chassis structure One piece of steel throughout Pickup area at the end Add a step at the back of the car For convenience in use up and down. Including adjusting the position of the mounting hooks For carrying both large and small luggage
Navara PRO4X and Navara PRO2X transmit DNA from Nissan Triton full size pickup trucks in the United States. For people who like adventure travel Ready to wade in new ways Enhance the fierce exterior design, grille and black tone accessories The suspension has been adjusted to be able to go anywhere in any situation, combined with 17-inch alloy wheels with All Terrain tires, the Nissan Navara PRO Series comes with a special color, Stealth Gray, complemented by a kit. Accent orange-red Inside the cabin And black seats, sporty design with logo PRO4X **
Nissan Navara Facelift 2021 is available in seven exterior colors:
White Solid
, White Pearl,
Brilliant Silver
, Black and White. Black Star
Red Burning Red
new color Forged Copper
Nissan Navara Facelift 2021 PRO series, both PRO4X and PRO2X in Stealth Gray are added as a specific option.
Nissan Motor Thailand is accepting reservations and will start delivering the new Navara
1. Introduce Nissan Navara Black Edition
Already said in the pickup truck market in Thailand The most popular type now is inevitable in the form of a "four door" that can help meet the needs of more car users. Regardless of the requirements of the car users The four-door pick-up is the choice that covers all the answers. The most condition. And with the special version of the four-door version of Nissan Navara and Nissan Navara Black Edition, this model that is not a popular model is at the head of the market compared to other camps. But there are many interesting things that cannot be overlooked For those who are looking for a four-door version of the finished version from a factory and this is the Nissan Navara "Black Edition", a pickup version from Navara.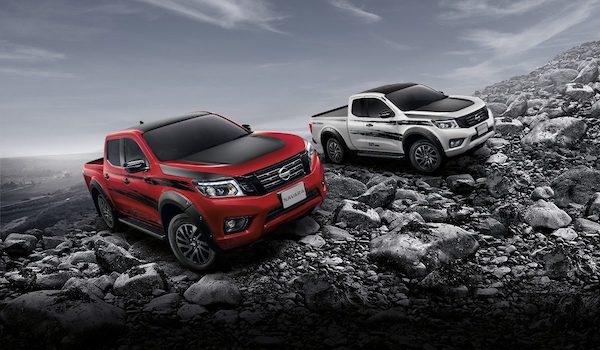 Nissan Navara Black Edition, the finished version of the factory That comes with more aggression than it used to be
Nissan has unveiled the protagonist's version of the pickup truck, such as Navara, which came with the name "Black Edition" in the early years of 2017 to increase excitement and more choices. Under the concept of "Innovation That Excite", hoping for those looking for a pickup truck that is more than "special". Unlike the general road running version and Nissan, it is interesting in the name of Nissan Navara Black Edition.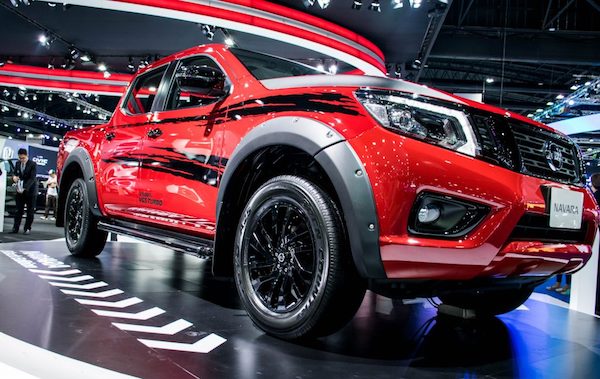 Nissan Navara Black Edition is made to add options for those who like to stand out. And different from the general version of Navara
With the obvious specialties when first looking at the Navara version of the Black Edition, which is probably better suited to be a match against the pick-up version from other camps, whether it's Toyota Rocco, Isuzu V-Cross , Mitsubishi Triton Athlete or Ford Wildtrak from a more aggressive and special modification than the ordinary version Unfortunately, Nissan does not make sub-models that are four-wheel drive models.
In the fourth generation of the driver will be in another version named Nissan Navara SportTECH, which, when compared to the Black Edition, can say that Navara Black Edition looks a lot more aggressive! We went to see the price of each model of the Nissan Navara Black Edition. What's better?
Nissan Navara Black Edition price,
King Cab version (double door), Caliber E 6MT, price
Double Cab model (four doors), Caliber E6 MT
Double Cab model (four doors),
2. External review of Nissan Navara Black Edition
The special exterior of Navara Black Edition , especially in the four-door version of the Double Cab, is full of all the brutality. In addition to highlighting the use of red as a promotion model Will come with a cool black graphic sticker on the car There are many points that are decorated with black tones to match the concept of model name. Starting from the front grille being changed to all black, LED projector headlights (black) with daytime running lights, fog light frame. Door handles and side mirrors are decorated in black. Such as single, side ladder and rear bumper Increasing the fierceness with wheel arches, both sides which are used as black sides. In order to cut the color of the 18-inch alloy wheels, the shiny black color fits well Fulfilling perfection, the ordinary version of Navara cannot be
Vehicle dimensions:  Navara Black Edition
Length (mm): 5255
Width (mm): 1850
High (mm): 1785
Wheelbase (mm): 3150
Car floor height (mm): 218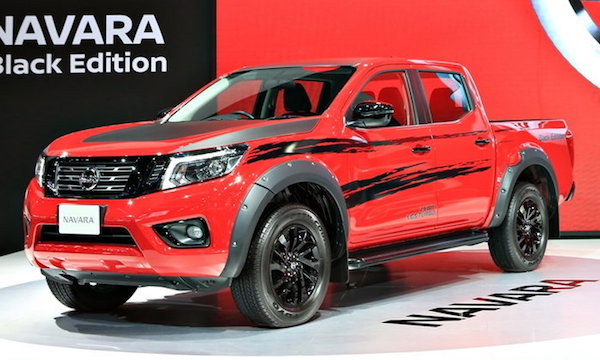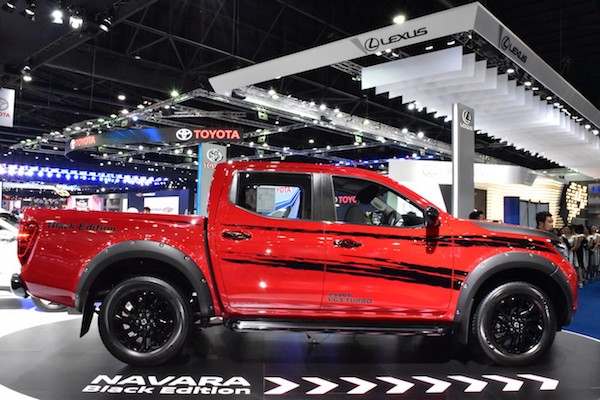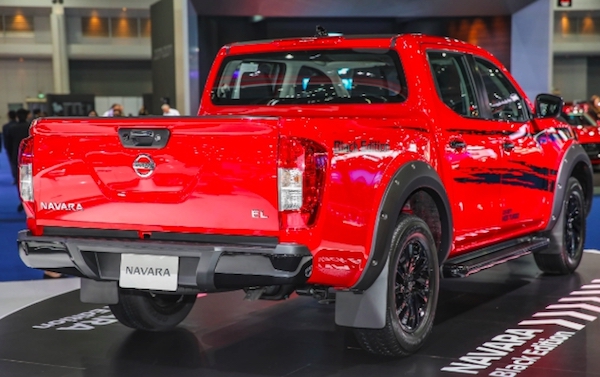 The outside looks more aggressive. With a decorative tone that draws black to help and bulky side bulge
3. Reviews within Nissan Navara Black Edition
If comparing the serial, the difference between the normal version of Navara and the Black Edition may not see the difference in the interior. Because in this special decoration, only special things are placed on the outside Just in this Black Edition version, Cruise Control will automatically control all sub-models at every price. The interior still retains Navara's original fine materials and furnishings. The polyurethane material steering wheel is multi-function. Dashboard panels and interior are mainly decorated in black tones, alternating with materials that are Piano Black and metallic silver. The seat is covered with black fabric, can be adjusted in 6 directions for the driver's side. And 4-way adjustable seats. The dial indicator shows driving data to be a 3D display. The infotainment system comes with a 7-inch touch screen supporting all entertainment including DVD, MP3, USB, HDMI with 6 speakers. This special edition of the Black Edition does not allow the air conditioner to automatically separate left and right. Is also just a simple push button But still good for the air-conditioner for the rear seat passengers to come with Cool and comfortable in every position, sitting No problem, cold air is not reached for the four-door model. The cabin is wide.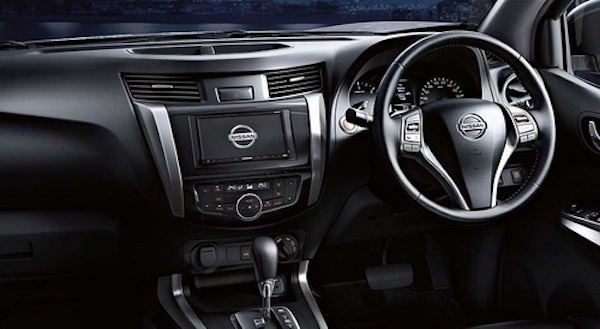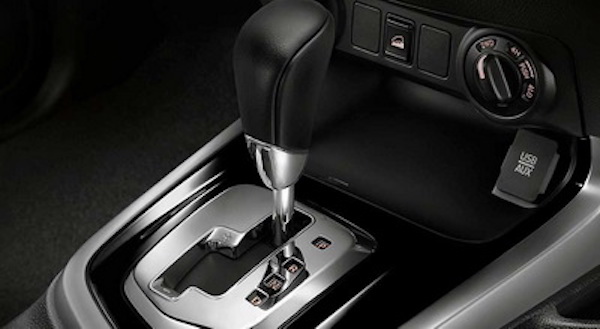 The interior is no different from the general Navara with all basic equipment.


The air conditioner for the rear seats is also provided. No problem, the air conditioner is not
4. Nissan Navara Black Edition Engine Review
In Navara, the engine is divided into two grades of diesel under the same code. YD25DDTi at higher grades will get 190 horsepower with 450 Nm torque and another grade in Navara Black Edition will be used as a 2.5L Common Rail engine. 4-cylinder, 4-cylinder DOHC 16 valve VGS variable turbo, compatible with intercooler The maximum horsepower can be rolled to 163 horsepower and the torque is 403 Nm, with the standard idea Euro4 delivered. The rear wheel drive is via 7 speed automatic transmission with Manuel Mode (and there are 6 manual transmission models to choose from).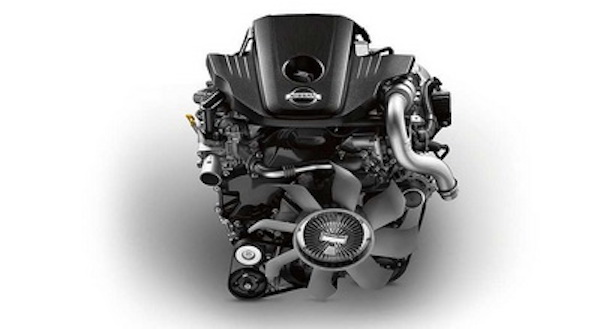 The engine for Navara Black Edition is not the strongest engine of Navara.
Performance details of Nissan Navara Black Edition (four-door model, Double Cab)
Body weight (kg): 1880
Speed ??0-100 kilometers per hour (seconds): N / A
maximum speed (Kilometers per hour): N / A
Total consumption in the Eco Sticker (km per liter): 13.2
5. Nissan Navara Black Edition Safety Review
Zone Body safety structure protects passengers when an accident occurs. Unfortunately, Nissan gave the air bag with Navara Black Edition for only two pairs. Even though it is the highest sub-model at the price of the Caliber EL 7AT 935,500 baht, because in the highest specification, Navara comes in both air bags. And the air bag around the driver's knee In driving more confident when equipped with ABS brake system with EBD and BA with automatic oil valve cut system when the car is overturned The key that is supplied is the Intelligent Immobilizer key provided with the anti-theft alarm. Rear view camera for safer and easier driving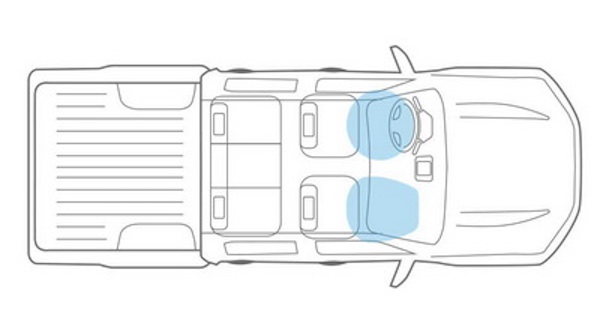 Navara Black Edition, even the top version of this model Also given only the front air bag
6. Summary
Navara Black Edition works well outside, looks aggressive, most notably when running on the road, not least in front of many competitors. The version that is the original version is from the factory as well. Using a sleek black tone is an important aid that makes this Navara look good, perfect for modern times. The most important is the "bulging side" of the four wheels that make the car body look bigger than ever. Fill the mood to the full level of off-road, making the original Navara look boring. Change into another version until almost impossible to remember.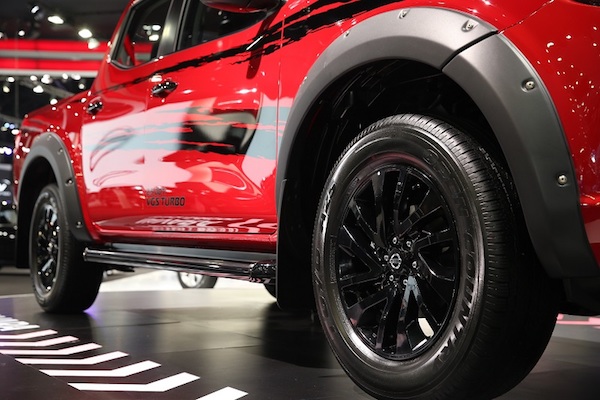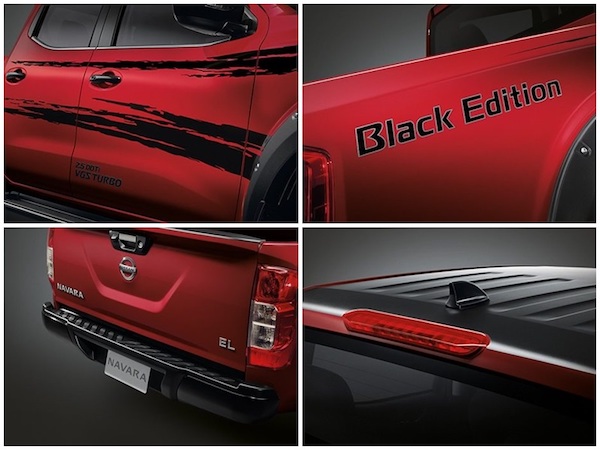 Full featured, but externally But the equipment in use is outstanding. Nissan also has a higher price version.
But there is a bad point that looks like Nissan is still confused in the needs of customers. Do not understand how much the real needs When in the Black Edition version, the outside is full of emotion and style. But there is no four-wheel drive model to choose from Including the engine that still put the block at the horsepower specification, just starting at 163 horsepower, to come up with this fierce look, likely to get a 190 horsepower engine to come, as well as the equipment as well Both in terms of usage and safety are another disappointing part. Regardless of the number of air bags The system helps to drive both the balance control system, the wheel protection system. Or the camera looks around the car that is conducive to make driving safer. Nissan has returned to the line, but with the top four models of SportTECH, as if the special version of Navara Black Edition is just that. Really full, but only outside
With this horse-mounted pickup truck, Navara Black Edition, looks handsome, perfectly fit, but falls back to death in the equipment. "How much is still enough to use the basic applications that are still considered to be the standard of this era. Then, for you, Navara Black Edition
United States of America, Afghanistan, Albania, Algeria, Andorra, Angola, Antigua & Deps, Argentina, Armenia, Australia, Austria, Azerbaijan, Bahamas, Bahrain, Bangladesh, Barbados, Belarus, Belgium, Belize, Benin, Bhutan, Bolivia, Bosnia Herzegovina, Botswana, Brazil, Brunei, Bulgaria, Burkina, Burma, Burundi, Cambodia, Cameroon, Canada, Cape Verde, Central African Rep, Chad, Chile, People's Republic of China, Republic of China, Colombia, Comoros, Democratic Republic of the Congo, Republic of the Congo, Costa Rica,, Croatia, Cuba, Cyprus, Czech Republic, Danzig, Denmark, Djibouti, Dominica, Dominican Republic, East Timor, Ecuador, Egypt, El Salvador, Equatorial Guinea, Eritrea, Estonia, Ethiopia, Fiji, Finland, France, Gabon, Gaza Strip, The Gambia, Georgia, Germany, Ghana, Greece, Grenada, Guatemala, Guinea, Guinea-Bissau, Guyana, Haiti, Holy Roman Empire, Honduras, Hungary, Iceland, India, Indonesia, Iran, Iraq, Republic of Ireland, Israel, Italy, Ivory Coast, Jamaica, Japan, Jonathanland, Jordan, Kazakhstan, Kenya, Kiribati, North Korea, South Korea, Kosovo, Kuwait, Kyrgyzstan, Laos, Latvia, Lebanon, Lesotho, Liberia, Libya, Liechtenstein, Lithuania, Luxembourg, Macedonia, Madagascar, Malawi, Malaysia, Maldives, Mali, Malta, Marshall Islands, Mauritania, Mauritius, Mexico, Micronesia, Moldova, Monaco, Mongolia, Montenegro, Morocco, Mount Athos, Mozambique, Namibia, Nauru, Nepal, Newfoundland, Netherlands, New Zealand, Nicaragua, Niger, Nigeria, Norway, Oman, Ottoman Empire, Pakistan, Palau, Panama, Papua New Guinea, Paraguay, Peru, Philippines, Poland, Portugal, Prussia, Qatar, Romania, Rome, Russian Federation, Rwanda, St Kitts & Nevis, St Lucia, Saint Vincent & the, Grenadines, Samoa, San Marino, Sao Tome & Principe, Saudi Arabia, Senegal, Serbia, Seychelles, Sierra Leone, Singapore, Slovakia, Slovenia, Solomon Islands, Somalia, South Africa, Spain, Sri Lanka, Sudan, Suriname, Swaziland, Sweden, Switzerland, Syria, Tajikistan, Tanzania, Thailand, Togo, Tonga, Trinidad & Tobago, Tunisia, Turkey, Turkmenistan, Tuvalu, Uganda, Ukraine, United Arab Emirates, United Kingdom, Uruguay, Uzbekistan, Vanuatu, Vatican City, Venezuela, Vietnam, Yemen, Zambia, Zimbabwe