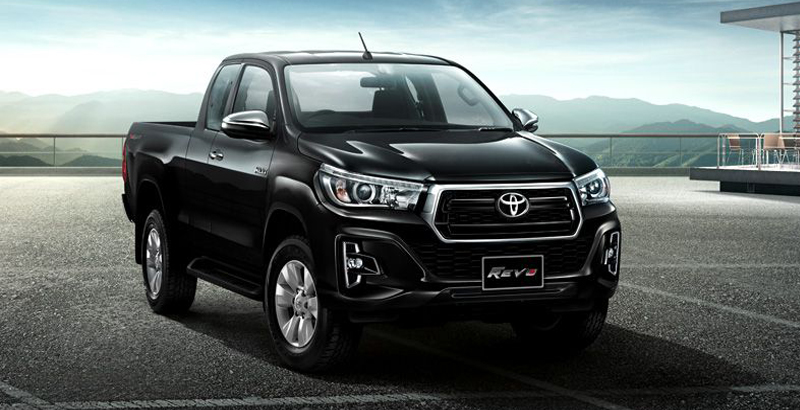 EXTERIOR outside TOYOTA Revo Smart-cab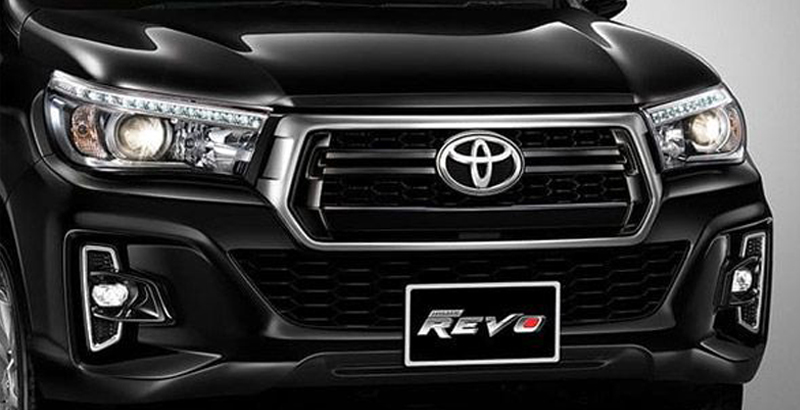 LED projector headlamp with high-low level adjustment system and Daytime Running Lights.The fabulous sleekness comes with excellent illumination quality, increasing good visibility in all situations.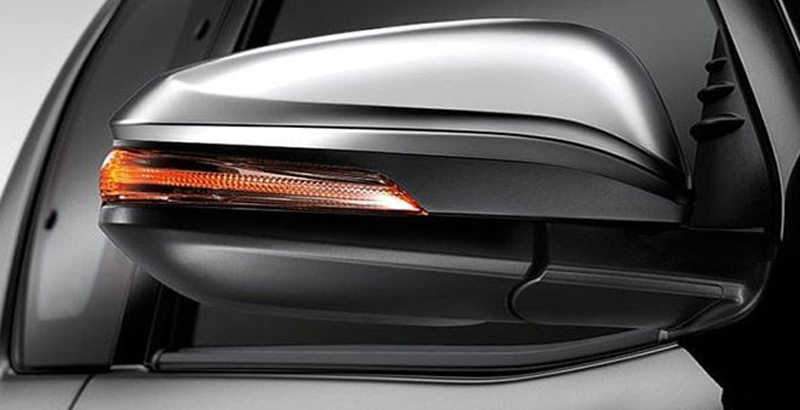 Chromium side mirror with turn signal Giving a wider perspective Increase safety on all routes with fins to help balance (Aero Stabilizing Fin) to improve driving stability.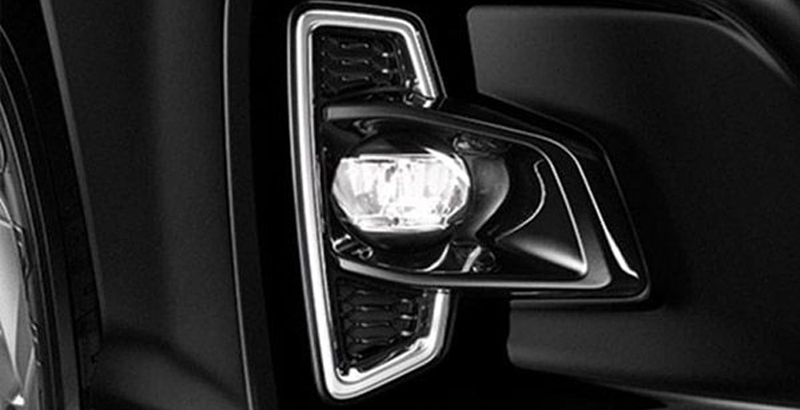 Front fog lights Help increase visibility And safety while driving when heavy rain Or fog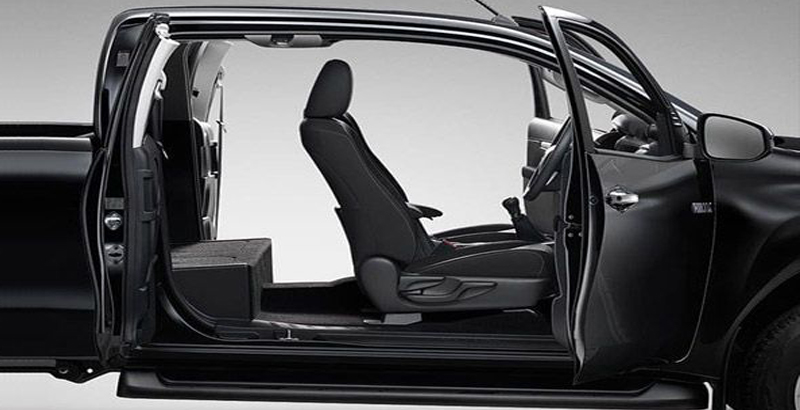 Smart door open, easy to access – out, convenient for every use, structure, door edge, strong absorption, safe with 2 layers lock system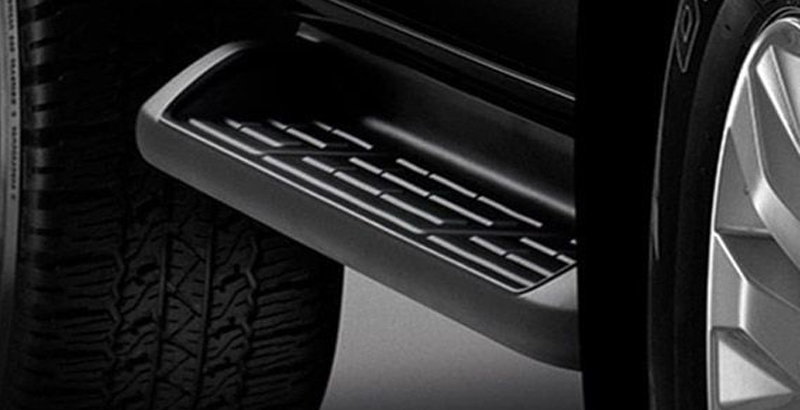 The side ladder adds comfort to the car.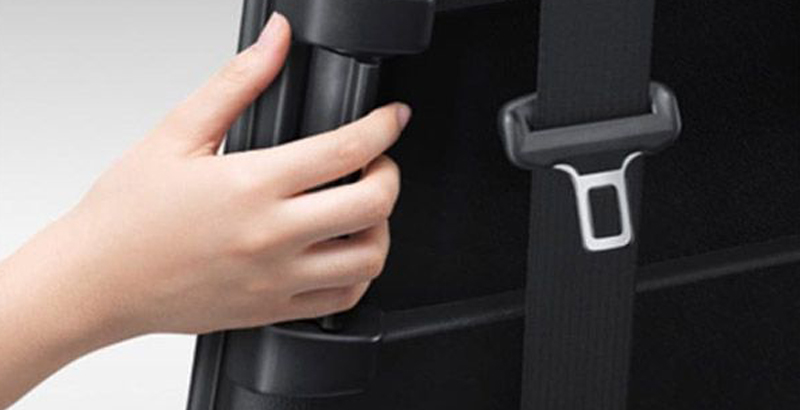 Smart handle, handle position Placed to open – close conveniently both from inside and outside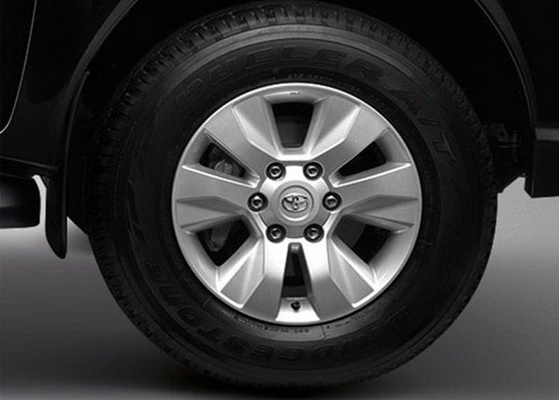 17-inch alloy wheels, elegant, attracting all eyes, with all-Terrain tires to support all driving styles Wade through all road conditions
---
Within various functions Convenient for all applications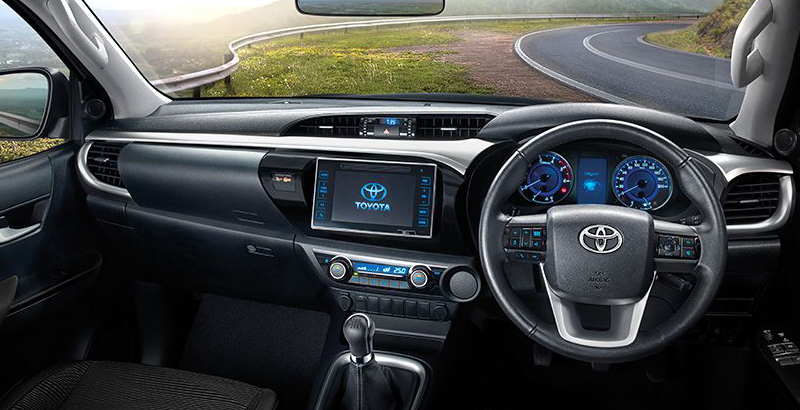 Screen display of 4.2 inch MID driving data , clear, easy to read, beautiful with complete color system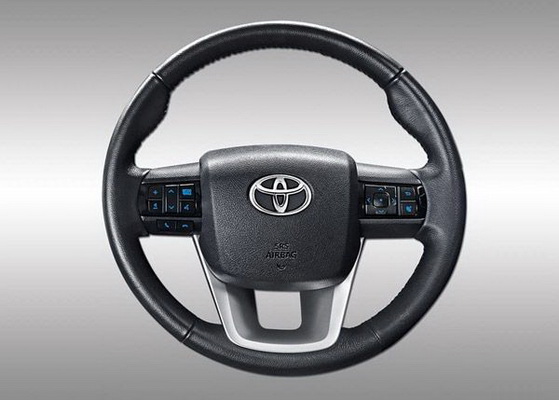 4-way adjustable steering wheel can adjust the high-low level Pull in – out to support every driver's body perfectly, with special design to have a larger contact surface, tight grip, stable, low vibration Relax every trip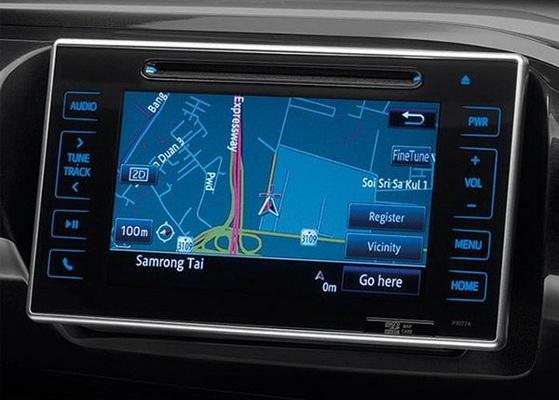 Audio system with 7-inch touch screen navigator, support for T-Connect navigation and connectivity USB / AUX / Bluetooth with 6 speakers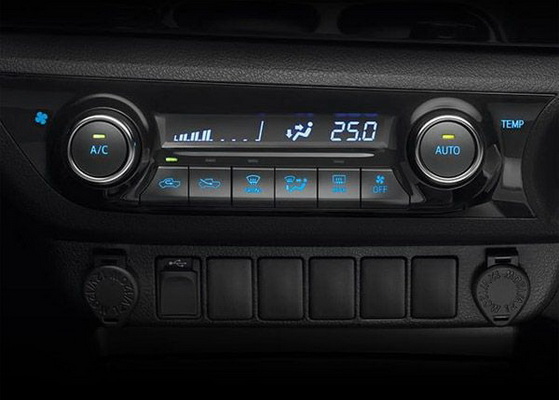 Automatic cooling control system Raise the coolness in the cabin.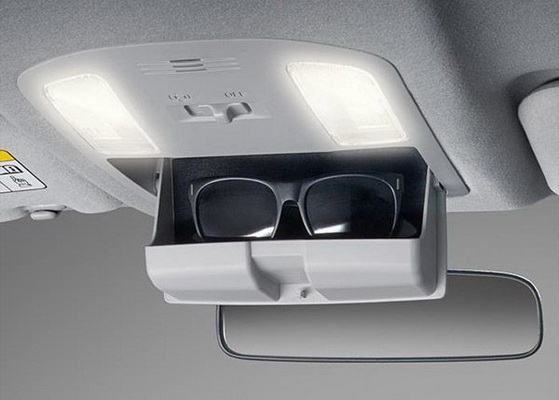 Eye box with plate light Increase convenience and flexibility in every journey
Storage box with cool box, large size in front of the console, filled with freshness throughout the journey.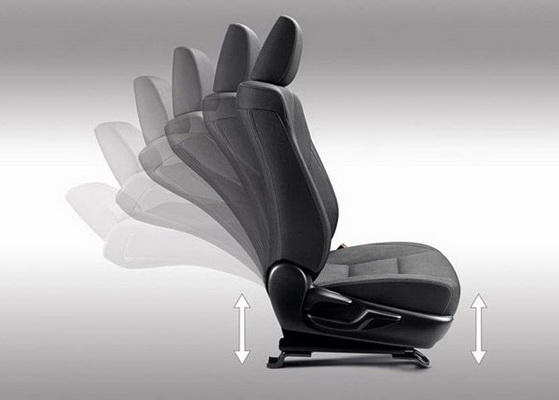 Driver seat, high-low level adjustment Supports every driver's body, adding a wider view, providing better driving visibility.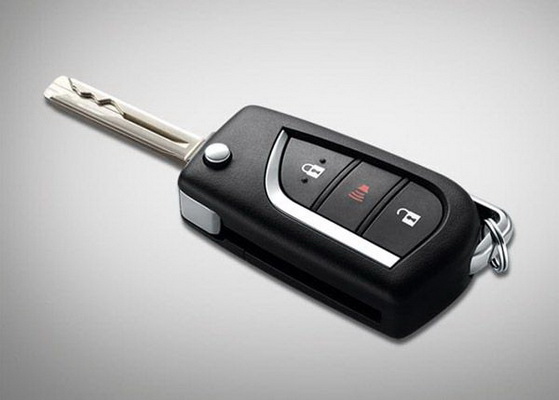 Remote control with convenient folding design (Jack Knife Key), remote lock and unlock with theft alarm and immobilizer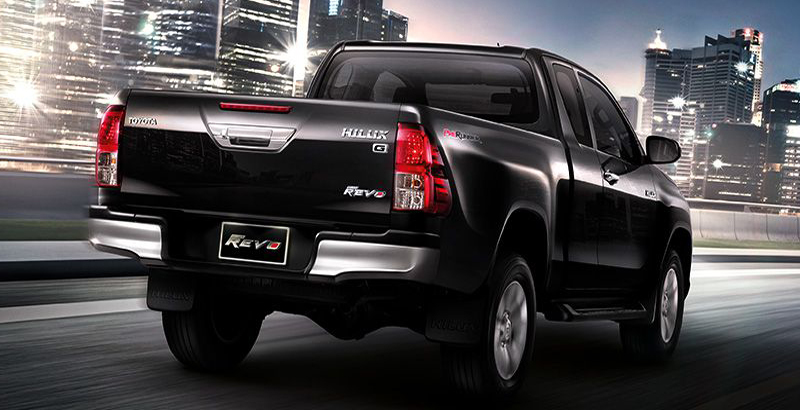 Strong, durable, cost effective , durable, fuel-efficient And maintenance costs
TOYOTA Revo Smart-cab engine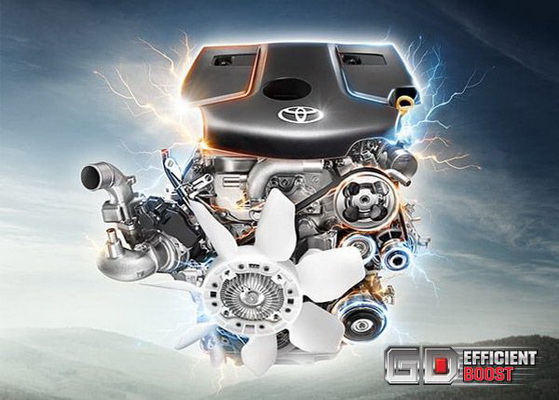 GD EFFICIENT BOOST engine, the ultimate technology for the future
Increase combustion efficiency Reduce heat loss And frictional With the latest generation common rail diesel engine Provides a high torque in the flat (Flat Torquel),both during the release or accelerating to save fuel. Silent engine Low vibration, durable, fully support all types of applications
– Maximum torque of 420 Newton – meters
– burns cleanly Save fuel
– low noise Quiet like a
low-exhaust car, friendly to the environment. Get Euro 4 standard
VN TURBO New Turbo Variable System Smaller but more efficient Continuous, every round, speed
Intelligent oil injection system With a 220 MPa high pressure pump. For perfect burning, more economical Silent engine Reduce noise and vibration, reduce pollution, be friendly to the environment
Roller Rocker Valve Lash Adjuster Arm reduces friction between cam and valve Eliminate the gap of wear and tear resulting in no leakage of steam. Silent engine Saving maintenance costs over the lifetime
EGR (Exhaust Gas Recirculation) is friendly to the environment Helps reduce the heat of low exhaust engines according to Euro 4 standards.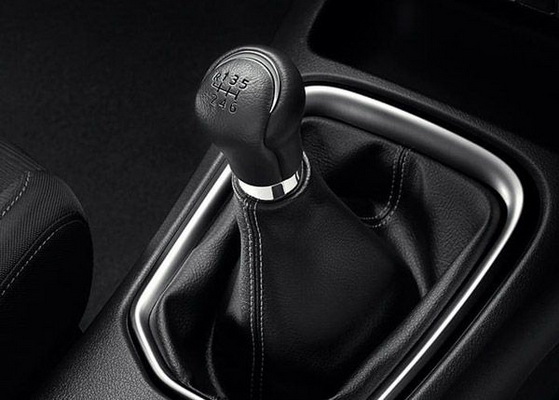 Intelligent manual gear, iMT 6, close to all driving, smooth, smooth, every stroke, speed, no spasm when changing gears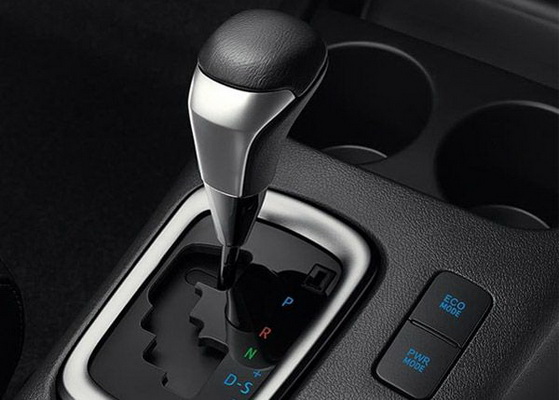 6-speed automatic transmission, Super Intelligent ECT closure, providing high torque in a low cycle Helps to increase driving performance and fuel efficiency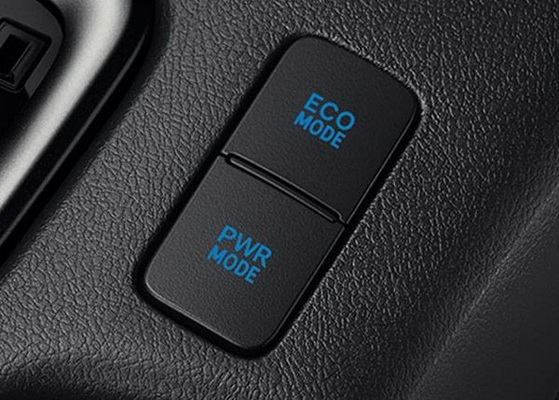 Driving mode switch (Drive Mode Switch) Select the driving style, both economical (ECO Mode) and high performance (Power Mode) response to all driving.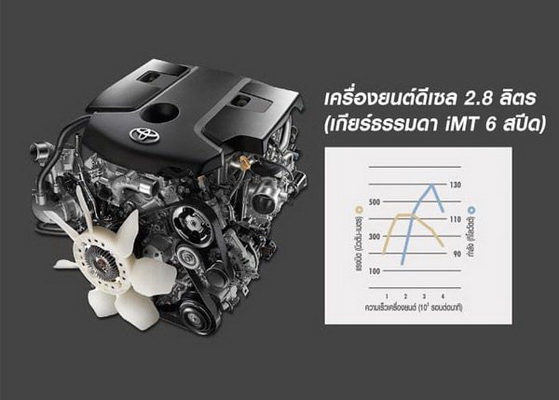 2.8 liter diesel engine (6 speed iMT manual transmission),
maximum power 130 kW (177 horsepower) at 3,400 rev / min,
maximum torque 420 Newton – meters at 1,400-2,600 rev / min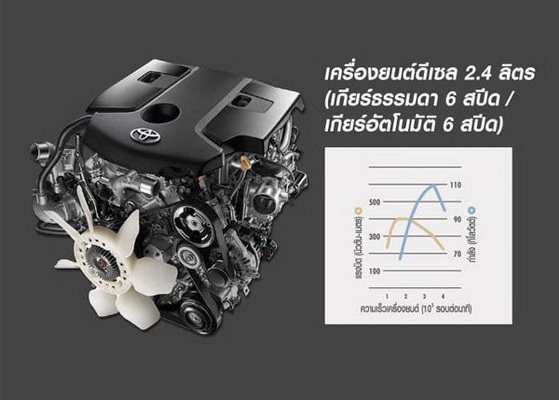 2.4 liter diesel engine (6-speed manual transmission / 6-speed automatic transmission),
maximum power 110 kW (150 horsepower) at 3,400 rev / min,
maximum torque of 400 Newton – meters at 1,600-2,000 cycles / minute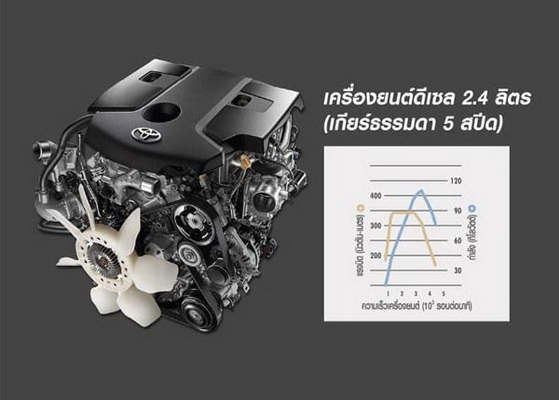 2.4 liter diesel engine (5 speed manual transmission),
maximum power 110 kW (150 horsepower) at 3,400 rev / min,
maximum torque of 343 Newton – meters at 1,400-2,800 r / min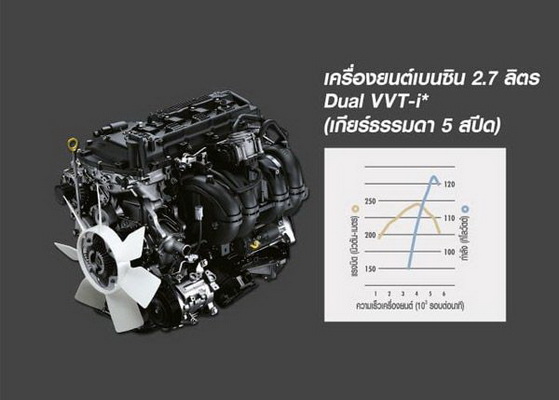 2.7 liter petrol engine Dual VVT-i * (5 speed manual transmission)
Maximum power 122 kW (177 horsepower) at 5,200 rev / min
Maximum torque 245 Newton – meters at 4,000 rev / min * Supports E20 oil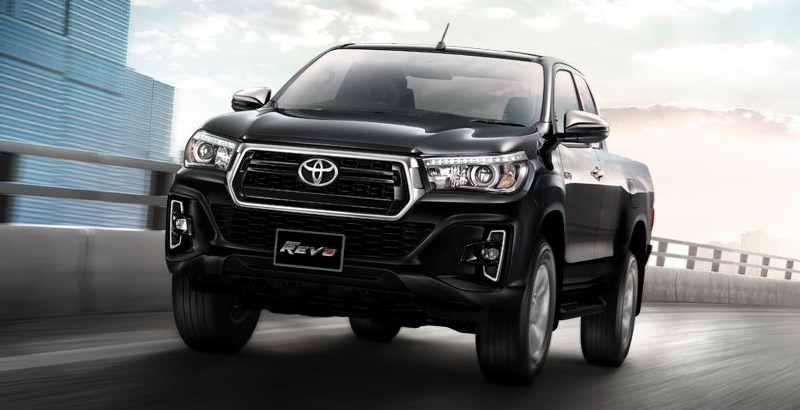 Everywhere is strong, every way, every island, every curve
Suspension system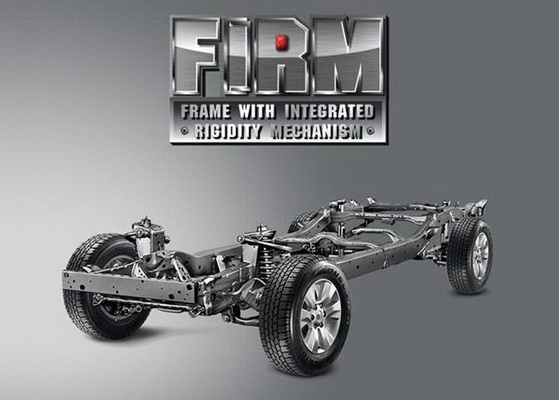 DCS (Dynamic Control Suspension) suspension
system, dynamic suspension control system Another step of advancing Every new design The ultimate strength and excellent response in both balance and softness.
New 20 mm * structure structure (Frame with Integrated Rigidity Mechanism)
, special design, increased stability and stability while running at high speed Reduce vibration Increase softness
– The ultimate strength Formed from High Streng Steel
– larger cross-sectional area Supports full load capacity
– Increase security With the design to absorb shock from collisions
The new Nwe Suspension System is designed for heavy loads. With superior control Stable stability, confident in every situation
8% larger shock absorber * Excellent road grip performance, especially when running on Off Road routes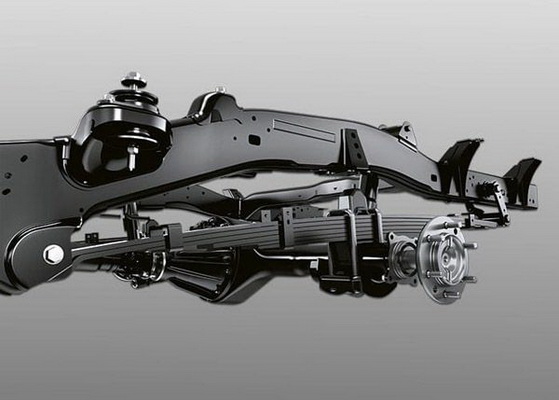 100 mm long sheet length * 50 mm increased spacing distance *
Better absorbing vibration Increase the softness of the car as it provides stability and stability in both straight and curved directions.
* Compared to the Hilux Vigo Pickup trucks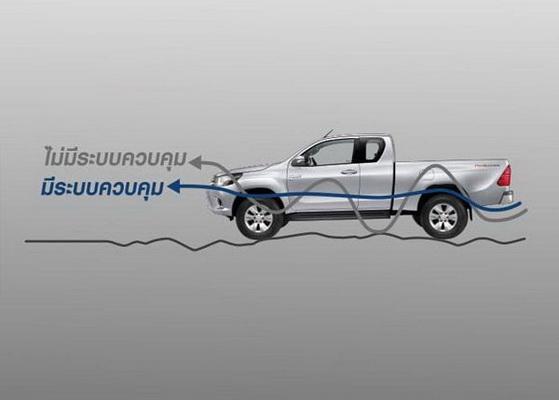 The cabin stability control system (Body Control with Torque Demand) ** The
system controls torque control. Helps reduce the flutter of the cabin due to road conditions. Provide smooth driving And more secure
** Only diesel engines
security system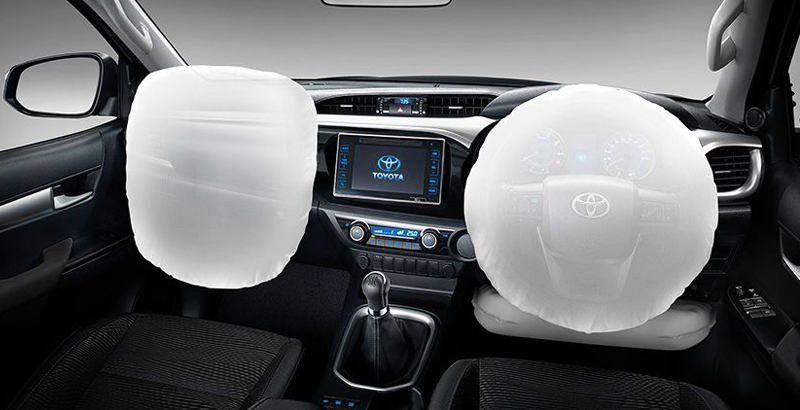 3 air bags for extra safety, ensuring a superior level of protection. Both the driver and the passenger Reducing the chance of injury from accident when the accident is fully effective. With front safety air bags, 2 positions / driver's knees, 1 position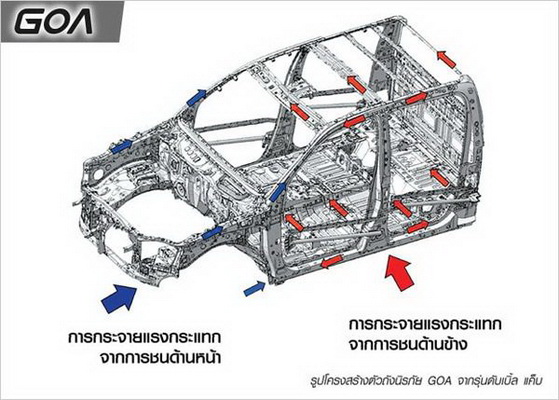 The safety structure of the GOA cabin structure has been specially developed. To be more advanced by using high-tensile steel (Steel Tensile Strength Steel) to increase the efficiency of adsorption and diffusion from the collision is excellent While protecting passengers in every situation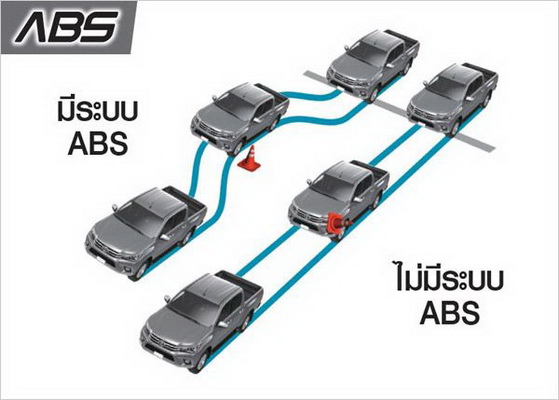 Anti-lock braking system (ABS) when braking suddenly The system helps to prevent the wheels from locking and slipping, allowing the vehicle to be controlled in all situations.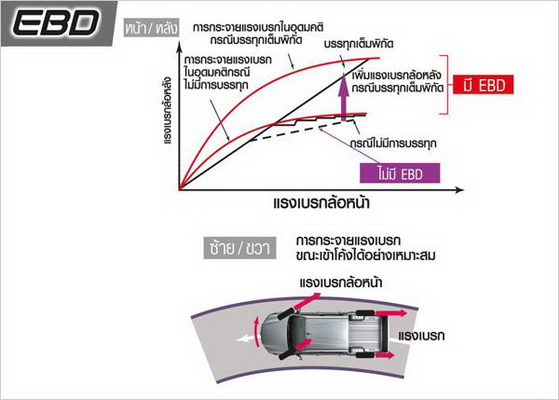 Electronic Brake-force Distribution (EBD) system,safe for all driving The system helps to balance the brakes in each wheel in a balanced manner. To prevent the end of the flick and spread the left-right wheel brake while cornering For better control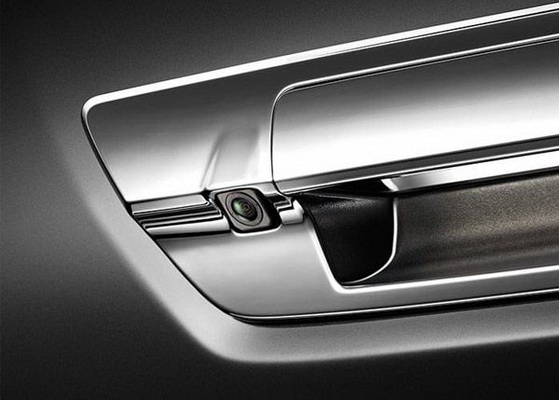 Rear view camera The system will show the image in the rear view of the car through the LCD screen when entering the reverse gear. Helps to make the parking lot safer
Equipment set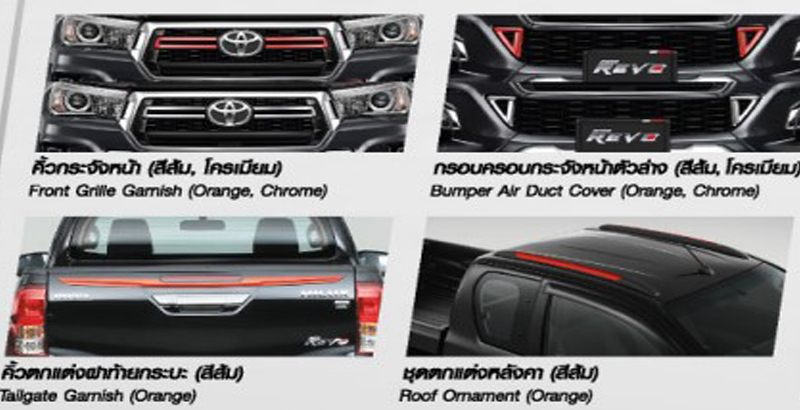 – Front grille eyebrows (orange, chromium)
– Eyebrows trim, tailgate
cover – Lower grille cover (orange, chrome)
– Roof trim (orange)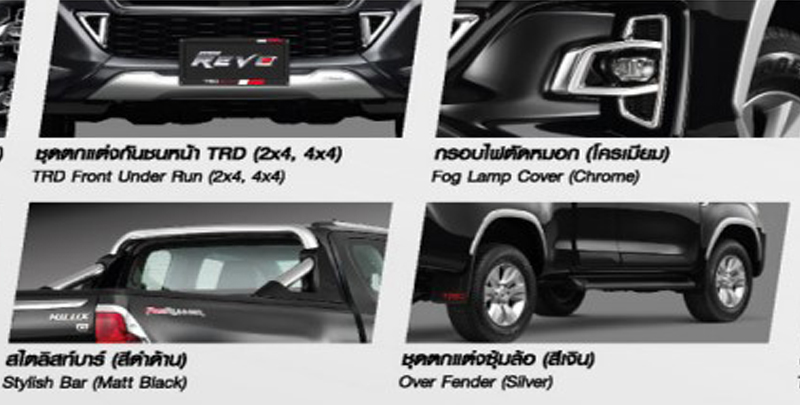 – Front bumper set TRD (2 × 4, 4 × 4)
– Stylist bar (matte black)
– Frame cut out (Chromium)
– Wheel arches (silver)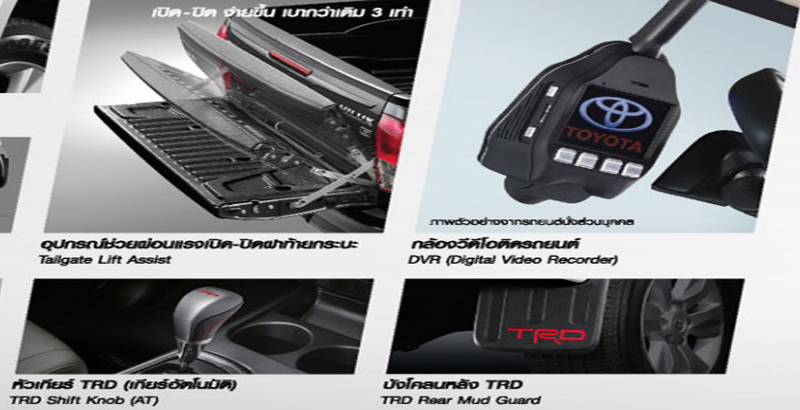 – Equipment for helping to relax – Close the tailgate
– TRD gear head (Automatic transmission)
– Car video camera
– Rear fender TRD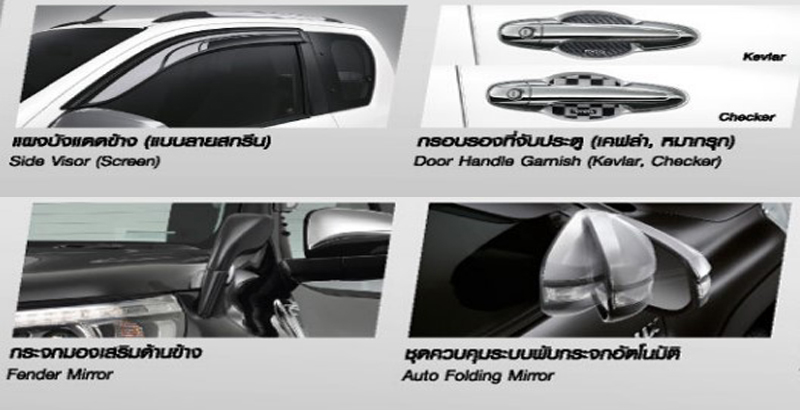 – Side panel (Screen pattern)
– Photo frame, door handle (Kevlar, chess)
– Side view mirror
– Automatic mirror folding control system
COLORS white Toyota Revo Smart Cab
Toyota Revolve Smart Cab is available in 6 colors: 1. Black 2. White 3. Silver 4. Gray 5. 6. Blue Pearl White.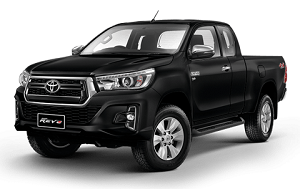 Toyota Revo Smart Cab Black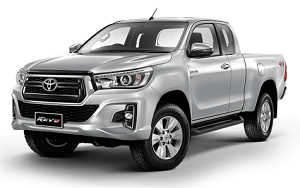 Toyota Revo Smart Cab Silver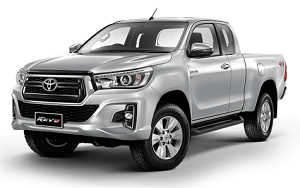 Toyota Revo Smart Cab White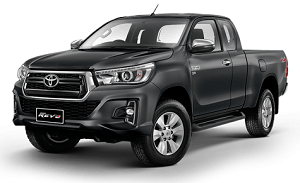 Toyota Revo Smart Cab Gray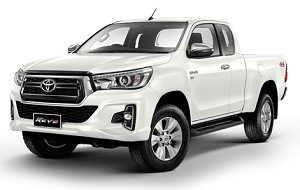 Toyota Revo Smart Cab White Pearl